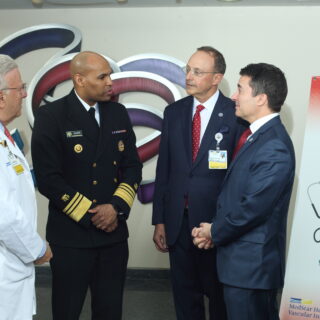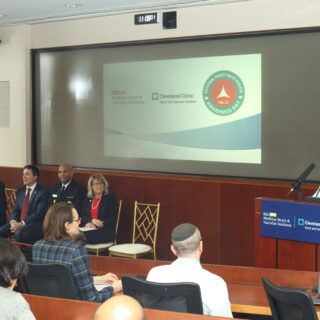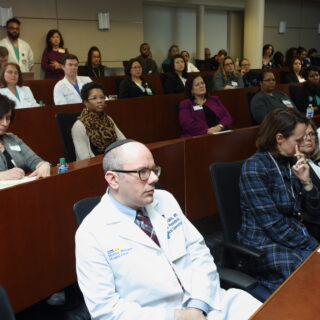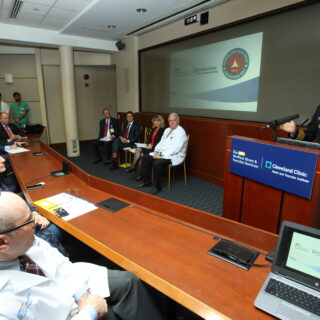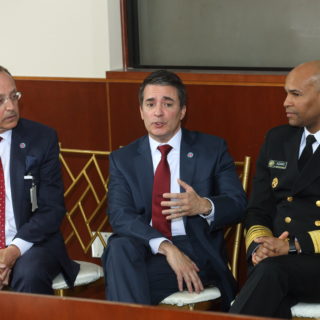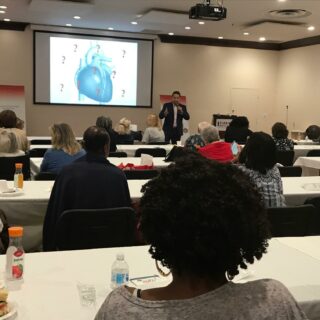 Infographic
Events
On National Heart Valve Disease Awareness Day and throughout American Heart Month—partners across the country hosted more than 30 in-person and on-line educational events including:
A flagship event with MedStar Heart & Vascular Institute with >100 healthcare professionals (viewed on Facebook by >2,500), featuring Dr. Stuart Seides and Dr. Lowell Satler of MedStar, Dr. John Whyte of WebMD, and U.S. Surgeon General Vice Admiral Jerome Adams, MD, MPH.
An educational booth at the CHI Memorial Cardiovascular Symposium—attended by >225 healthcare professionals.
A consumer lunch event at Baylor Scott & White Hospital – Plano, featuring an expert panel for >140 guests.
An awareness survey fi elded by the U of Michigan Frankel Cardiovascular Center.
Launch of a new Women's Health Resource Center at Atlantic Health Systems—in partnership with WomenHeart—on Valve Disease Day.
Local senior center events hosted by EMERGENCY USA in Brooklyn with >150 attendees including immigrants from Russia, Belarus, Moldova, China, Ukraine, Uzbekistan, Tajikistan, and more.• A Lunch & Learn and educational breakfast for patients at Florida Medical Center.
An educational booth in the Hartford HealthCare hospital with educational materials for the community.
A Facebook live expert talk on valve disease hosted by Inova Heart & Vascular Institute.
Mended Hearts Chapter events featuring valve disease experts and educational materials.
Minneapolis Heart Institute Foundation event for more than 200 attendees.• An event focused on rheumatic heart disease hosted by PASCaTS and the Global Heart Forum in Ghana.
A health fair hosted by U of Arizona Sarver Heart Center including heart screenings, healthy cooking demos, educational materials, and more.
Media Highlights
This year's campaign had exciting media exposure with a high-profile op-ed in RealClear Health and 30 letters to the editor in newspapers around the country. The combined circulation of these placements was more than 2.5 million readers.
A press release about the day was picked-up by 173 outlets with a total potential audience of 10 million and 2,577 views.
Radio Media Tour
This year, the awareness day was broadcasted through an early morning Radio Media Tour that included 14 interviews with major news outlets and featured the Alliance's Sue Peschin and WebMD's Dr. John Whyte. The interviews were aired 1,754 times, including with NBC News Radio, and reached more than 11 million listeners.
Social Media and Online Promotion
On Valve Disease Day and throughout American Heart Month, people across the country shared selfies, personal stories, educational resources, and more.
Facebook produced 1.9 million impressions, 197,000 engagements, >19,000 link-clicks, and 389,000 video views.
A Twitter chat co-hosted with American Heart Association generated a reach of more than 57 million impressions.
Instagram produced 4,566 impressions and 575 engagements.
Public Service Announcements
Two television PSAs were aired for the 2019 campaign. The PSAs were aired more than 5,700 times (1,400 airings on Big Four networks).
The PSAs produced a combined audience of more than 63,500,000. Additionally, the PSA ran on-line, garnering more than 780,000 views.
Partners
In 2018 there were 43 national partners committed to National Heart Valve Disease Awareness Day—a 100% increase over the inaugural year in 2017. These invaluable partner organizations are committed to raising awareness in their communities and through their outreach and include patient representatives, advocacy groups, aging organizations, professional societies, hospitals and heart centers, and more.